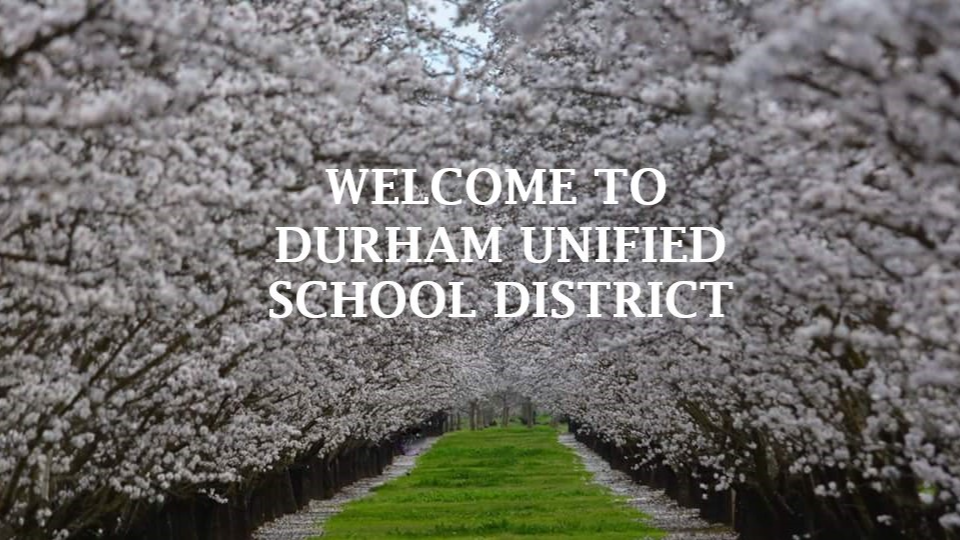 The Durham Unified School District may be small, but we provide a big education to all of the students that walk through our doors. In recognition of the pride Durham takes in its schools, the district was named a 2019 California Exemplary District.
From the first-time students enjoy Grandparent's Day at Durham Elementary School to walking across the graduation stage at Durham High School, students and families enjoy the supportive, family environment of a school system where the School Board, Teachers, Classified Staff and Admin team all work hard to do what is best for our students. With a strong sense of community pride, the Elementary School (about 450 students) serves students from transitional Kindergarten through 5th grade. We are excited to offer all-day kindergarten and an abundance of extra-curricular activities. We focus on the whole child, supporting students academically and socially in a safe positive learning environment. We foster student independence, responsibility and a love of learning. Our programs include strong instructional practices, daily small group reading instruction, visual and performing arts, a physical education program, art, gardening, and so much more!
Students walk across the street to Durham Intermediate School to experience 6th-8th grade in the safe, small school environment (about 250 students).
To complete their journey, students work their way just a little bit further back onto the campus to become Trojans at Durham High School. Durham Trojans excel in athletics and academics! Our academically qualifying juniors and seniors have the opportunity to receive dual credit from Southern Oregon University in civics, history, English, physics, and pre-calculus. High school students can graduate with as many as 43 trimester hours on a college transcript and save money on college tuition. We also have a variety of CTE courses that are articulated for dual credit with Butte College. Those CTE pathways are in Agriculture, including agriculture mechanics, floriculture, and the agriculture sciences; Manufacturing, welding, 3-D printing, and technology; and our newest pathway in Arts, Media and Entertainment in digital recording arts. Athletically the Trojans are very competitive in our leagues with Section titles in many sports over the years. Our wrestling program qualifies many boy and girl wrestlers for Masters and also the state competitions. Durham High School is the real deal! (about 320 students).